We can supply customized design of any purlin shapes, any purlin hole styles
Product Name: C Z Purlin Roll Forming Machine Size Interchangeable

Our full automatic size interchangeable c z purlin roll forming machine has matched hex nuts, with special hexagon spanner, it is more convenient for adjusting different material width. Considering the purlin raw material thickness is bigger, not good feed material head into purlin roll forming machines by manual, we designed the feeding rollers are driven by main motor and transported by sprocket chain, it can save human power when producing.

This purlin roll forming machine is size interchangeable, can produce both c and z sections, see below mark out cassette, it is used for exchanging C and Z type, when the roll forming machine produce C purlin roll forming machine at first, ater first c purlin producing task, we need to operate these six cassette: pull out and rotate them 180 degree, next, whole roll forming line can start to roll forming z purlin producing task. Easy operation. The servo motor on right picture is for changing purlin size.


The portable button for controlling size changing can be matched also, we can adjust the purlin size by these portable controller, what sizes of c purlin or z purlin you want? You adjust the corresponding reading size on the ruler, then whole purlin roll forming machines control system can be moved until touch the size you want to produce.

This size interchangeable c z purlin roll forming machine is pre-punch pre-cut model, it has four hydraulic cylinders, one cylinder one action, three cylinders for punching holes, and the other one is for cutting off. See below details on pictures. All hydraulic pipes are together with screw casing, it is for keeping hydraulic pipes safe and can be used more long time.

Profile Design Drawing
Suitable material: Zinc coated coil,Galvanized steel coil, Material thickness: 1-3mm, 2.5mm for inspection (common used), material Yield<=Q345Mpa.
Technical Parameter
| | |
| --- | --- |
| Parameters | Specification |
| Voltage | 380V/50HZ/3PH |
| Driving Motor | 18.5KW |
| Hydraulic Cuting Motor | 5.5KW |
| Motor For Width Adjust | 0.75KW*3 |
| Forming Steps | 18 |
| Working Speed | 15-20m/min |
| Thickness for Steel | 1.0-3.0mm (Material:PPGI,GI Steel G550) |
| Shaft Diameter | 80mm |
| Shaft Material | High grade 45# forged steel |
| Roller Material | Gr15 steel with polished and heat treatment |
| PLC Cabinet | Schneider, Delta |
| Encoder | Omron |
| Sprocket Wheel | 45 steel high-frequencies quench |
| Cut-off System | Post punching post cutting |
| Cutting Blade Material | Cr12 steel |
| Machine Frame Material | Fine welded structural steel; |
| Roofing Material | PPGI, GI steel G330-550 |
| Painted Color | Blue+Gray White Or Customization |
| Overall Size | 9000*1400*1800mm |
| Weight | 9500KGS |
Purlin Samples
The hole shapes and dimensions can be customized design according to user's requirements.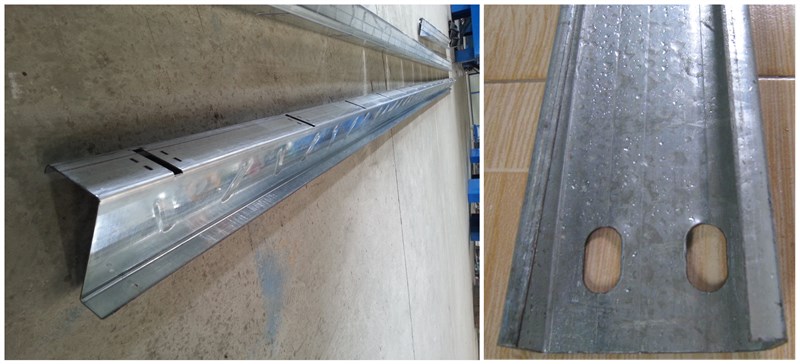 Need More Information, pls contact us soon, will give you more professional suggestion for your project.